As workers return to the office across Sydney, making sure you have the best professional environment is an absolute must.
Undertaking a review of your interior design can help take your business to the next level, and at Crest Interiors, we are here to help you find the perfect fitout for you.
When you're planning an office fitout there are a few things you need to consider. First, and most importantly, is the budget. This will determine every step you take during your fitout, so planning ahead is critical & will help you understand the costs that are involved in this process. A typical fitout process includes initial Concept Designs, Design Development, Project Budgets and Construction & Fitout. When you partner with Crest, you will receive a breakdown of the costs involved per square metre in the different departments of the business. To provide some context and help you prepare, we have laid out some of the typical office refurbishment costs you might encounter.
Sydney office space requirements
Finding the right space in the Sydney CBD can be tricky, so knowing how much space you need for your operations is a must. Not only is it practical for planning, but this will help you identify the outfit costs per square metre, developing a more accurate launching point for your budget. 
Deciding how much space you require involves reflecting on how you want your business to function. Is there room to grow? Are there coworking or subletting opportunities? Do you plan to scale your business after a period?
A common, cost-effective approach to launching your new look is with an open plan style. This can then be developed with flexible partitions to create private spaces that still allow a free flow office environment. It is also important to think about what is appropriate for your space, as this will help you pre-empt typical costs and adjustments that may need to be made later.
Tackling the IT
The company's IT infrastructure is a very important part of business operations and keeping everything running smoothly is critical. A simple relocation of existing server equipment will be the most cost-effective option; however, some organisations take the opportunity to upgrade all server equipment and associated computers, laptops & screens. Phone systems can either be relocated or renewed. With VOIP phone systems being more common in modern office spaces, there has been a reduction in the number of data points required to each work point. With a move to agile working most workers are using mobile phones, so the need of a phone system has become obsolete.
Finally, your connection with the rest of the world, costs of setting up internet or fibre connection will depend on the existing facilities in the building.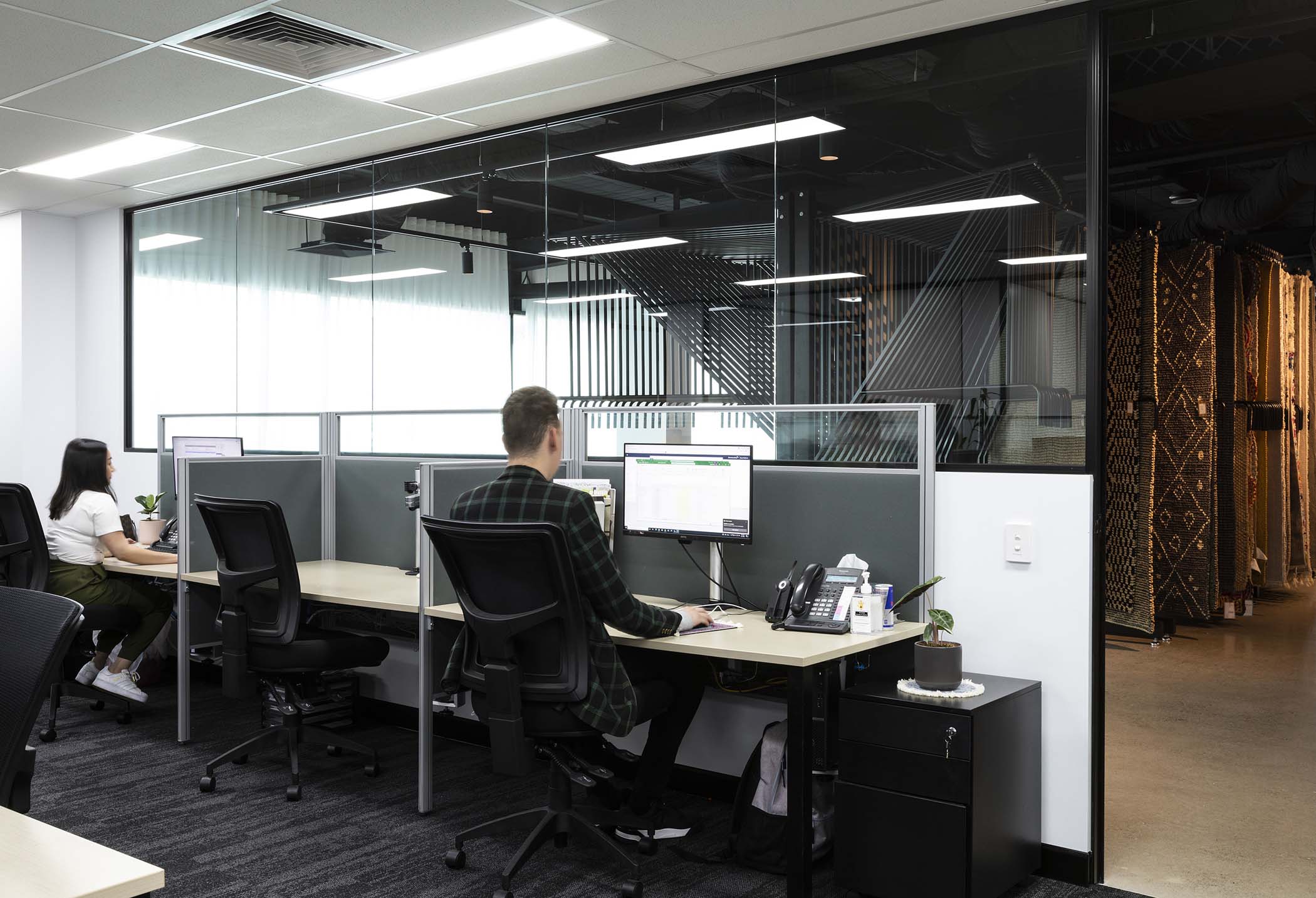 Admin and housekeeping costs
This involves relocating files, scheduling when downtime will occur and controlling the office relocation. The cost will be dependent on the amount of equipment and files that need to be relocated. During a review of these administrative costs is where you would research parking locations and travel options for staff. Updating your internal systems to coincide with your new location and notifying all suppliers and clients of your new address. Some companies choose to rebrand, incurring the cost of designing new logos, refreshing the overall business collateral & website.
Cost of construction
The cost will depend on the space you're moving into – is it partially fitted out, or is it an open space (existing flooring, ceilings, and services)? An open space typically is the more expensive type of fitout due to the need of building rooms and spaces to suit your business requirements. However, if the space has a partial fitout, existing built environments can be retained making it a more cost effective fitout.
There may also be constraints with the site and location, adding extra cost to the fitout. Is it a multitenancy building? Are there after hours works required? Are there any hidden cost associated with the building? What certification will your fitout require? Does your business require specialist rooms like labs or training centres?
Different fitout designs will have varying costs. Will your space be open plan, or will it be a traditional office? Will you have meeting rooms and breakout spaces? Do you have extensive signage/graphic requirements? Is the fitout aligned with your corporate branding?
Thinking about the overall space and breaking down your fitout costs per square metre can help you get a sense of where your budget will lie.
Production timeline for typical Sydney office fitout
Selecting a completion date for your project has a considerable impact on the overall cost of your office fitout. With enough forethought and planning, you can avoid any unnecessary costs, keeping the full process to a realistic and manageable timeframe. Understanding the complexity of the design and having an idea of the amount of work that needs to take place will help when developing a production timeline. This will ensure that everything proceeds as smoothly and cost-effectively as possible throughout the fitout project.
Commence your Sydney office fitout with Crest Interiors
The above are just a few things to consider when you're budgeting for the costs of an office fitout. When you speak to Crest Interiors about your fitout plans, we will help you choose the designs best suited to your business, whether office refurbishment or office renovations, so that we can provide you with a cost estimate, and then we can get started on bringing your new space to life. Take a look at our recently completed projects, to see examples of our solutions. 
With over 40 years in the Sydney market, we offer insightful consultation and high-quality construction to help you put your best foot forward with your business. Find out how we can assist you with your office fitouts in Sydney, Melbourne and beyond. Call us on 1300 761 247 today to find out more about our services and request your free consultation with an office designer today.